International students of education partners around the world will come and study at UEH-ISB for one to two semesters annually.
UEH-ISB offers a wide range of undergraduate and postgraduate programs entirely taught in English. Besides the programs granted by UEH, there are many affiliate programs with reputable universities around the world such as Bachelor of Business and Master of Business Administration from Western Sydney University; Executive Master of Business Administration from Université du Québec à Montréal, Canada; Master of Finance from Massey University, New Zealand; and Master of Public Administration from Tampere University, Finland.
PROGRAM STRUCTURE
The Bachelor of Business ISB BBus has a total of 27 modules taught in English, including foundation, core, and specialized subjects in Management, Marketing, Finance, and Accounting.
Exchange students are allowed to choose any subjects taught in English during the semester at UEH-ISB. The minimum number of modules are 2 subjects for the Autumn semester and 3 subjects for Spring and Summer semester.
Note: 1 ISB subject = 4 ISB credits = 3 US credits = 6 ECTS credits = 12 CATS credits.
See more information here.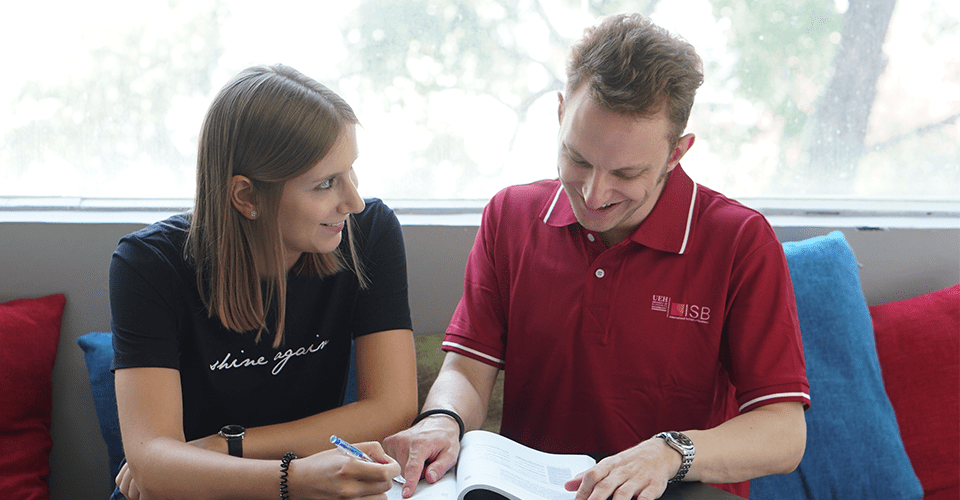 REQUIREMENTS
To be considered for the Student Exchange Program at UEH-ISB, international students need to:
Be confirmed and nominated as an exchange student by the university you are enrolling

Contact current university if be interested in the exchange program at UEH-ISB

Completed at least one regular year at current university

English level: for those students whose English is not a native language, a minimum IELTS score of 5.5 (no skill below 5.0) or equivalent certification is required.
LIFE IN VIETNAM
ACCOMMODATION
The Exchange Student Department can provide international students a list of accommodations that have been carefully researched by UEH-ISB. These places are not only near the school but also safe and private. In case they want to choose another place, UEH-ISB will double-check to ensure your safety.
TRANSPORTATION
Ho Chi Minh City has a busy traffic system. Most people use motorbikes as the main transportation. There are some transportations that UEH-ISB encourages students to use while studying here.
VIETNAM CULTURE
Vietnamese Cuisine: Vietnamese cuisine always makes a strong impression on foreign tourists. Let's learn about five famous and must-try Vietnamese dishes when coming to Vietnam.
Tourist Attractions in HCMC: UEH-ISB campuses are located at HCMC, which is the largest and named as the economic capital of Vietnam. Day by day, more and more high-rise buildings appear creating a uniquely Vietnamese style. However, there are various places you should visit in HCMC. This "Top 10 Tourist Attractions in Ho Chi Minh" handbook will help you grasp all the information.
Tourist Attraction in Vietnam: Although Vietnam is not a large country, the scenery here is quite magical. From long beaches, white sand, blue sea to tropical forests covering the mountains. These are surprisingly beautiful scenes in Vietnam.
LIST TO REMEMBER
Here is a list of items you should bring:
Clothing: Vietnam is a tropical country where the usual temperature is around 33-35C. The weather here is quite hot, thus foreign students should prepare thin clothes like t-shirts with easy-to-dry materials for better activities.

First aid kits and insect sprays, especially mosquitoes

Personal laptop

Camera with battery and charger

Medicine if you are in treatment

Sunglasses and sunscreen: SPF 45 is suitable for the sunlight in Vietnam

Shoes: If you walk a lot, bring a pair of running shoes. Flip-flops are also a popular choice. However, it is recommended that you use sandal shoes when visiting temples, museums, or mausoleums.

Credit Cards: Visa and MasterCard, one credit card and one debit card, you should not exchange cash

USB for learning

Homeland food in case you are not used to eating Vietnamese food for the first few weeks
SHARING FROM STUDENTS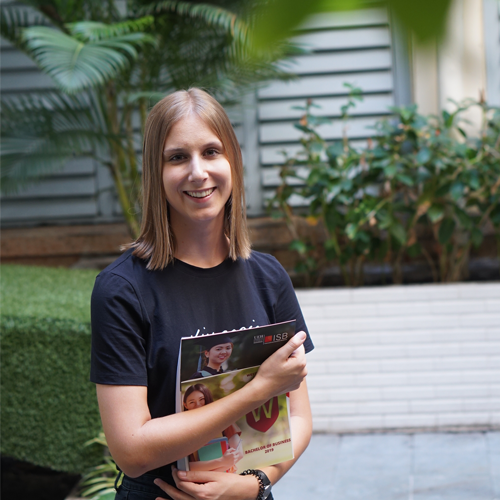 I have a lot of memorable moments at UEH-ISB. Everything is different, from the campus, the way of teaching to make new friends, all is interesting.
The difference here is, we are assigned more homework and do more teamwork compared to studying in Germany. In Germany, you just need to go to school, listen to lectures and finish the final exam. But at UEH-ISB, we are offered a dynamic and interactive learning environment, we have a lot of things to learn and experience throughout the course.
Ines Joelle, Exchange Student from Germany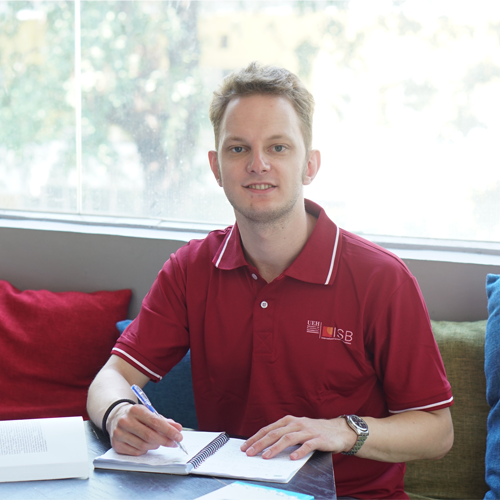 The method of study at UEH-ISB is clearly oriented. I am really excited that UEH-ISB offers a wide range of majors – not the same as what my school has, just specializes in tourism.
In addition, I have great opportunities to get acquainted and study in a diverse environment with many new friends. This made me enlarge my knowledge and vision into many other useful aspects.
Gerben Kuipers, Exchange Student from The Netherlands
For more information, please contact:
International Student Exchange Department:
Email: exchange@isb.edu.vn