Besides academics program, UEH-ISB also provides a variety of clubs and student groups, through which students can develop their vital soft skills and cultivate practical knowledge.
At UEH-ISB, students will be able to get involved in exciting and dynamic extracurricular activities. With more than 10 different clubs, you shall have the opportunity to unleash your abilities and interests; accumulate knowledge and practical experiences related to your majors; at the same time, acquire necessary social skills and expand your personal relationships.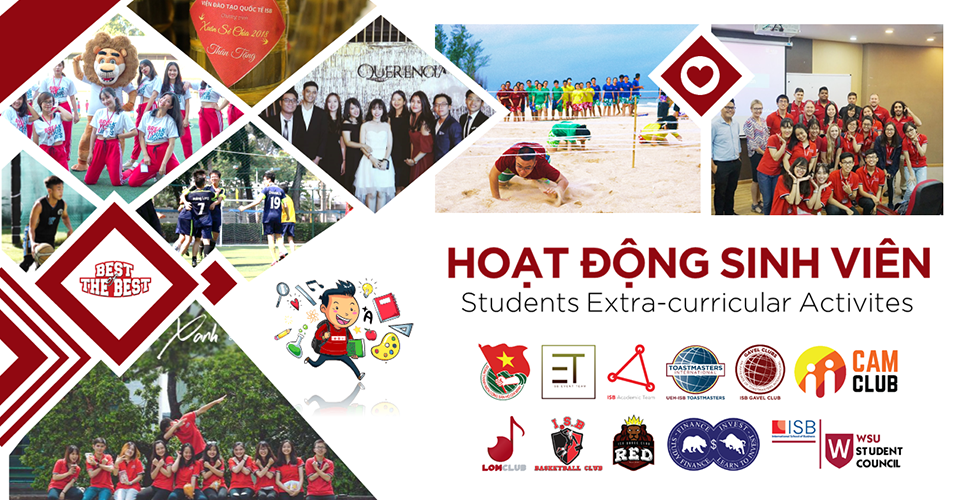 UEH-ISB YOUTH UNION
UEH-ISB Youth Union belongs directly under Delegation of University of Economics Ho Chi Minh City. Youth Union is where individuals incubate and develop their talents, in order to become successful business leaders and managers.
The Youth Union Executive Committee is a community that gathers all the best leaders of the classes, who are selected and elected annually. UEH-ISB Youth Union is responsible for launching and organizing exciting student events and a wide range of social activities such as volunteering, sport and music activities, namely Xuan Se Chia, UEH-ISB Traditional Sports Festival – UEH-ISB Games, Outdoor activities – UEH-ISB Teambuilding, etc. These programs are held annually with flexible changes in themes and concepts for each season. Therefore, our student activities always receive a lot of support and enthusiastic participation.
STUDENT CLUB AND GROUPS
At UEH-ISB, we have a variety of student-run clubs, tailored specifically for different interests, personalities and strengths of each individuals. These clubs create an environment where students can get hands-on experience and necessary soft skills in accordance with their own hobbies. Hence, in ISB, student clubs are always encouraged to organize and launch activities or events that fit their own colors. Students can choose their favorite clubs to join, including:
UEH-ISB Youth Union
UEH-ISB Event Team
UEH-ISB Academic Team
Music club – L.O.M
UEH-ISB Toastmasters Club – for Public Speaking
Finance and Accounting Club – for F&I
RED – UEH-ISB Dance Club
UEH-ISB Basketball Club
UEH-ISB CAM Club – Communications and Marketing Club
UEH-ISB Gavel Club
WSU Student Council

At UEH-ISB, throughout the year, there are countless new and interesting extracurricular programs and activities organized with the aim of giving students entertainment, as well as opportunities to absorb new knowledge and skills.
Every academic year, UEH-ISB freshman are always warmly welcomed through the event of UEH-ISB Welcome Night – I am UEH students (Tôi là sinh viên Kinh Tế). The event is held enthusiastically and passionately with the meticulously well-prepared performances of trending singers, as well as talented UEH-ISB students. In addition, outdoor activities such as UEH-ISB Teambuilding and Youth Union Staff Training play an indispensable role in helping students relax and have fun with friends after tiring study hours, fostering solidarity and teamwork skills. Volunteer activities such as Xuan Se Chia and Green Summer are often included in the list of activities that students must join during their university time, as they brings in lots of valuable experiences and unforgettable memories. Moreover, the UEH-ISB Games is a playground for students to lead a healthy and active life. Besides, seminars, career seminars or field trips at enterprises are also amongst the important activities that UEH-ISB regularly launches and organizes to equip students with modern knowledge and information, as well as enabling them to have more businesslike experiences in real leading enterprises.
LET'S GO THROUGH SOME OUTSTANDING ACTIVITIES AND CLUBS AT ISB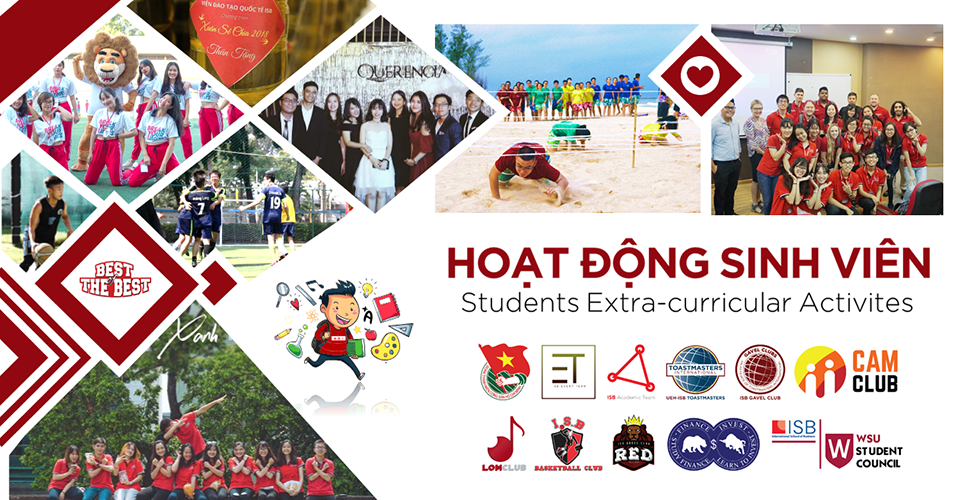 Student Support and Business Partners Department:
Email: studentsupport@isb.edu.vn