Course Overview
Bachelor of Business ISB BBus is a primary program taught entirely in English at UEH-International School of Business
Welcome message
As a part of the University of Economics Ho Chi Minh City (UEH), the UEH-International School of Business was established to create a world-class, modern, and dynamic educational environment. Our curricula are continuously updated to meet the demands of employers and the challenges of the global workplace. The teaching method by using case studies helps students to transition theory to practice, thereby acquiring knowledge can be quickly and effectively. In addition, students are allowed to participate in many seminars on different topics to equip and enhance the necessary skills for future careers.

Prof. NGUYEN DONG PHONG – President. University of Economics Ho Chi Minh City
WHY CHOOSE BACHELOR OF BUSINESS ISB BBUS PROGRAM
Bachelor of Business ISB BBus focuses on the comprehensive student ability in aptitude and creativity enhancement; encourages self-study ability and develops their potential talents.
The undergraduate program concentrates on teaching talented students to work for multinational corporations in the world as well as be successful in business in the future.
The course structure sets clear objectives to maximize student's capacity.
Students are oriented for future career development through the ISB Leadership Program.
The program was accredited by the Foundation for International Business Administration Accreditation (FIBAA) and CPA (Australia)
Students can choose the transfer & exchange program via the Bachelor of Business ISB Pathway BBus 2+1 and receive an honorary degree from education partners of UEH-ISB around the world.
Enquire now HERE.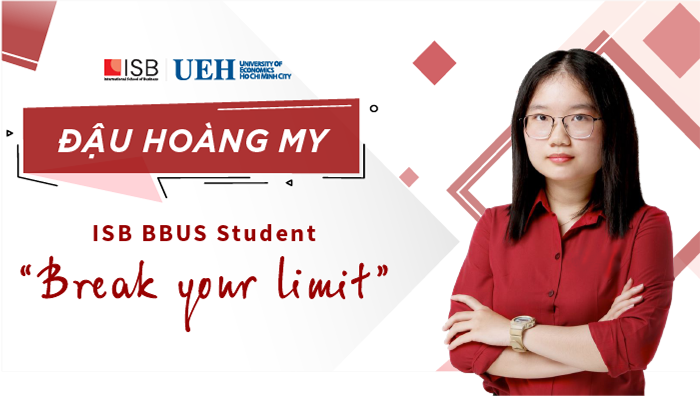 As an introvert, without activities in ISB I will only focus on studying and will not have the opportunities to become the me of today. Not only that, at ISB I also have the chance to make friends with other talented students and they are now all my close friends.

Dau Hoang My – K44 Bachelor of Busines ISB BBus
WHY CHOOSE UEH-ISB
UEH-ISB has a modern and dynamic educational environment, reach the international standard
In 2018, UEH-ISB received the certification of CPA Australia – a milestone affirming the outstanding progress of the quality of The Bachelor of Business ISB BBus Program.
Lecturers with highly professional and experienced who have studied abroad for many years and lecturers come from prestigious universities around the world.
UEH-ISB offers a training program entirely in English at undergraduate and postgraduates levels.
LAUNCHPAD FOR FUTURE TALENTS
80% of students entrance are from high schools for the gifted nationwide
100% of students are excellent or good students in high school
90% of students have GPA in grade 12 scored 8.5
70% of entrance students have an overall IELTS ≥ 6.5
80% of graduates are working in multinational corporations