Live Webinar "MBA For Success" is an online sharing series which is hosted by Assoc. Prof. Quan Tran – Dean of ISB. Our series aims to provide overviews, best practices about learning, working experiences of Entrepreneurs, CEOs from MNCs and reputable corporations.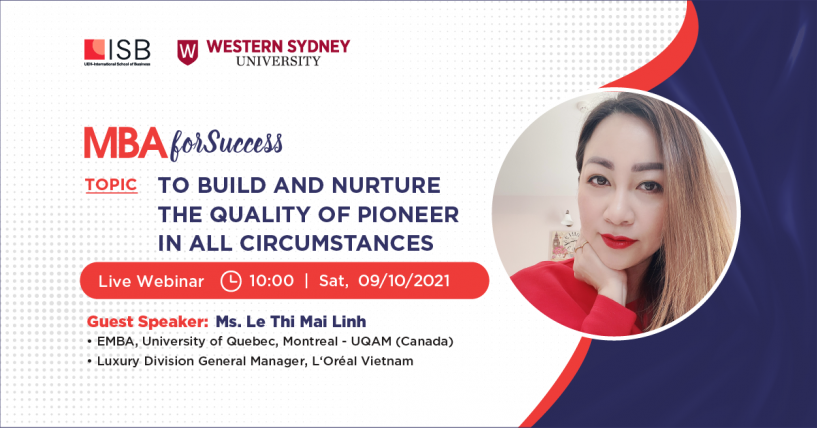 MBA For Success in episode 13 is going to connect with Ms. Le Thi Mai Linh – L'Oréal Vietnam Luxury Division General Manager. The female leader will bring to us many valuable sharing about living and working experience during the journey of becoming a "pioneer". From there, to give advice about the development orientation for the potential human resources and to emphasize the important role of education.
Ms. Mai Linh has led the industry to successfully implement the transformation strategy for growth. In addition, she actively participates in feminist activities aimed at women advancement and success. She is one of the 50 typical Vietnamese female business leaders of 2020.
Topic: "To build and nurture the quality of pioneer in all circumstances"
Time: 10:00 | Sat, 09/10/2021
Guest Speaker:
Ms. Le Thi Mai Linh – EMBA, University of Quebec, Montreal – UQAM (Canada); Luxury Division General Manager, L'Oréal Vietnam
Join our webinar, you will learn more about:
The journey to become a "pioneer" in the luxury division of cosmetics in Vietnam – challenges and the ways to overcome them;
Important quality of a potential employee from point of view of a senior manager;
The value of learning for career development.
Language: Vietnamese