The Bachelor of Business Western Sydney BBus is a joint program between UEH-International School of Business and Western Sydney University, Australia that is completely delivered in Vietnam. Students of Western Sydney Vietnam will graduate with a degree granted by Western Sydney University (Australia) and be recognized by employers around the world.
In 2021, Western Sydney Vietnam has held an early enrollment, with many direct offer opportunities for students of grade 12 across the country.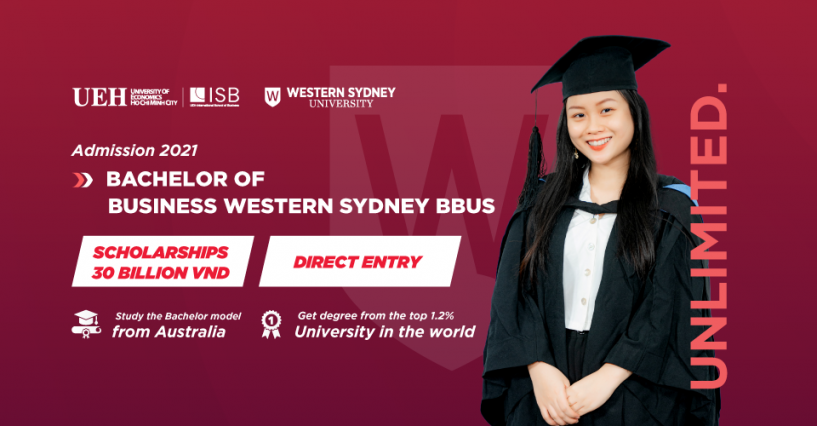 Admission requirements
Academic requirements:
High school academic results with a GPA for grade 12 or graduation exam results); or

Pass an admission point to a program in Vietnam's University; or

Pass the Placement Test organized by UEH-ISB; or

Transfer from domestic and foreign universities (considering the specific case).
English requirements:
IELTS (Academic) 5.5 overall with a minimum 5.0 in Writing (or equivalent); or

Pass at least 60% of the English Placement Test organized by Western Sydney University and UEH-ISB
Deadline for admission to the Bachelor of Business Western Sydney BBus on March: 20.02.2021.
In addition to the March 2021 intake, the Bachelor of Business Western Sydney BBus is expected to organize more intakes in May and September 2021. Moreover, the freshman students also have the opportunity to receive scholarships of 30-50% of the first-year tuition fees from Western Sydney Vietnam if direct offering with excellent academic and English level achievements.
In 2021, the Bachelor of Business Western Sydney BBus program has three main majors: Marketing, Applied Finance, and International Business. The program prolongs 3 years by following the Bachelor of Australia model.
Learn more about Bachelor of Business Western Sydney BBus Program
Sharing of testimonial and alumni of Western Sydney Vietnam
Parents and students can directly register for consulting in three ways:
1: Access Admission Portal of Western Sydney BBus 2021 through admissions.westernsydney.edu.vn ; filling information via the online form.
2: Contact the Admissions Department of Western Sydney Vietnam directly by a hotline: (028) 3930 5293
3: Book and have direct consulting at the Western Sydney Admissions Office Vietnam at 17 Pham Ngoc Thach, Ward 6, District 3, HCMC. Ho Chi Minh.
Contact information consultant
Please provide detailed information in the form below for the admissions department to accept and call to consult directly.
Admissions office:
Email: bbus.admission@westernsydney.edu.vn
Address: 17 Pham Ngoc Thach, Ward 6, District 3, HCMC, Vietnam
Phone: 028 3930 5293
Website:
westernsydney.edu.vn